Infrared Thermography Certification
Certification is a written testimony of qualification. While there are no federal or state regulations that require infrared certification to conduct an IR inspection, we commonly see certification conditions specified within an organization's written practice, insurance requirements, or outlined within bid prerequisites for those competing for external opportunities. As thermal imagers become more accessible and friendlier to operate, a knowledgeable operator is as equally important to the success and quality of the inspection as the camera itself. The two are not mutually exclusive. A professional operator understands the science behind the camera, its capabilities, and how environment can influence the accuracy of readings. ITC's curriculum is designed to guide students in these essential areas and beyond to ensure students are confident entering the field and have the required knowledge to be successful. Certification establishes that an operator can:
Effectively operate an IR camera and implement best practice inspection techniques

Collect accurate and quality data for post processing analysis and documentation

Avoid common new user mistakes and false interpretation/diagnosis of results

Understand the full capabilities (and limitations) of IR technology

Leverage IR for improved situational awareness and safety
Curriculum Development Standards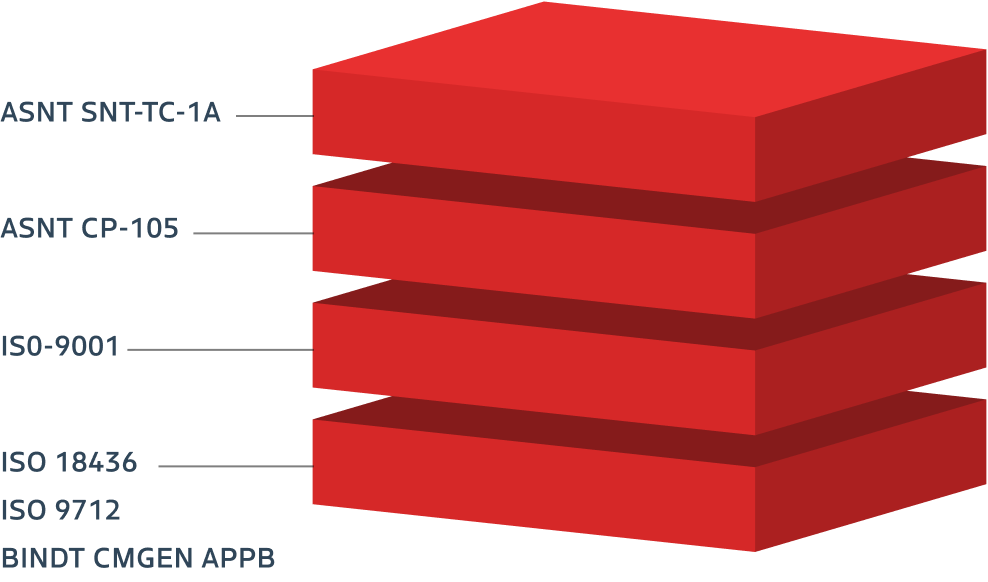 As a global organization supporting a range of industries and applications, we acknowledge and adhere to the standards
provided by the American Society of Non-Destructive Testing (ASNT), British Institute of Non-Destructive Testing (BINDT), and
the International Standards Organization (ISO). Specifically, ASNT SNT-TC-1A & CP-105 for North American courses, BINDT
CMGEN appB for United Kingdom classes, and ISO 18436 & 9712 for courses conducted in Latin America and Europe. We
recognize the importance of a quality education and compliance with common NDT standards is just one of the reasons why
ITC certifications are recognized globally as the industry gold-standard.