Implementation of Thermal Imaging PDM Program at a Textile Manufacturer
InfraMation 2016 Application Paper Submission
J Humberto Paniagua
Paniagua Ingenieria
ABSTRACT
How a basic IR inspection turned out to be the start of a very important predictive maintenance program implementation at a vertically integrated textile manufacturer. The journey from a very basic IR inspection into a plant wide predictive program, with IR as the main technique involved is outlined in this paper.
INTRODUCTION
Textile manufacturers are a very complex plant structure, and even more when it involves, not only manufacturing the textile from basic thread, but to get to a finished product with graphics printed on the final clothes, turns to be a very demanding and plan intensive manufacture. The final product is the result of threading, tinting, cutting, sewing and printing the fabric to have a finished product for the clients, some of which are well known brands worldwide.
IMPLEMENTATION
The process started when a new engineering and maintenance manager was brought in, after some huge growth of the facility due to two big contracts. One of the new procedures ordered by the newly hired engineer, was an IR inspection, that brought into light some interesting problems that were quickly solved. This procedure was supposed to keep going outsourced, but the following inspection was done by a poorly prepared electrical contractor that raised some eyebrows on his findings. The now not so new engineer, decided to buy a thermal camera, so I was called in to sell a camera and this developed into a full contract to implement the IR program at the plant.
Part 1
The first part of the program consisted of doing a thorough walk-through of the plant, understanding the basic procedures of the plant production and their main problems. This walk-trough reminded me, that a textile plant is a very complex plant with some very unusual needs. A textile plant needs to be very much aware of the fire risk involved in every procedure, thus a thermal inspection becomes a very helpful tool to avoid hot spots and probable fire hazards.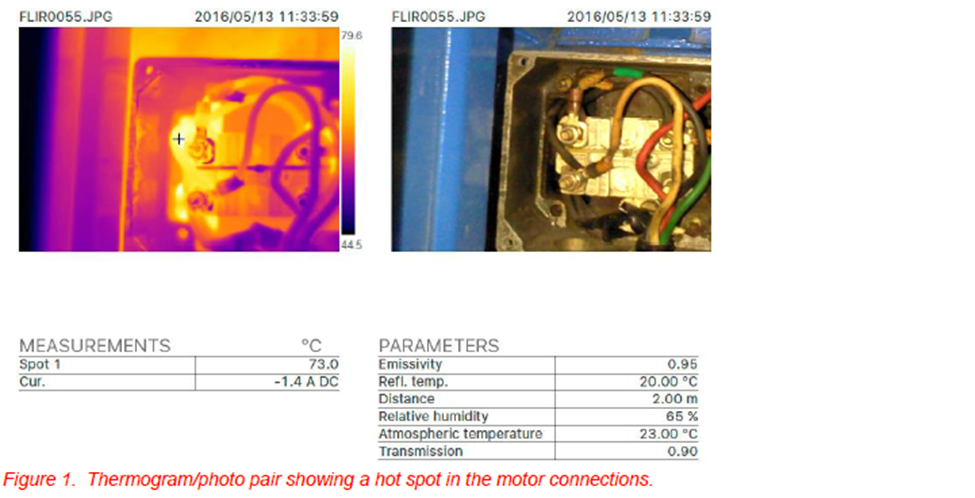 The walk through was very instructional as we found out some very interesting points that were not mentioned by either of the previous electrical contractors, making a stronger point for creating a specialized program. During this period it was brought to my attention, that the basic procedures for an electrical maintenance program were already implemented, but it had no mention whatsoever to the need of doing a thermal inspection. The safety procedure is very thorough.
We detected hot spots in the motor connections as well as in some electrical panels that were supposed to be doing fine as they were authorized as OK by the electrical contractors.
Part 2
The following part, involved the education of the engineers that were in charge of the inspections, as it was decided that each engineer in charge of some section of the plant would be doing the IR inspection for its own plant section thus creating a deeper knowledge of each part of the system. Some sections of the plant required inspections every 6 months.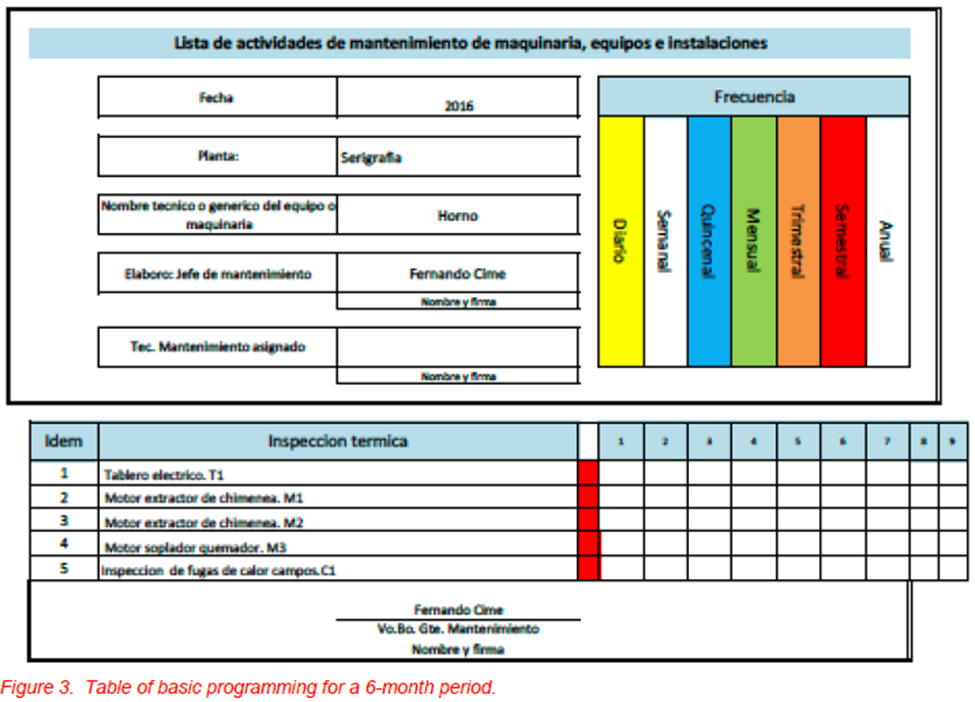 Some other sections required a more constant inspection: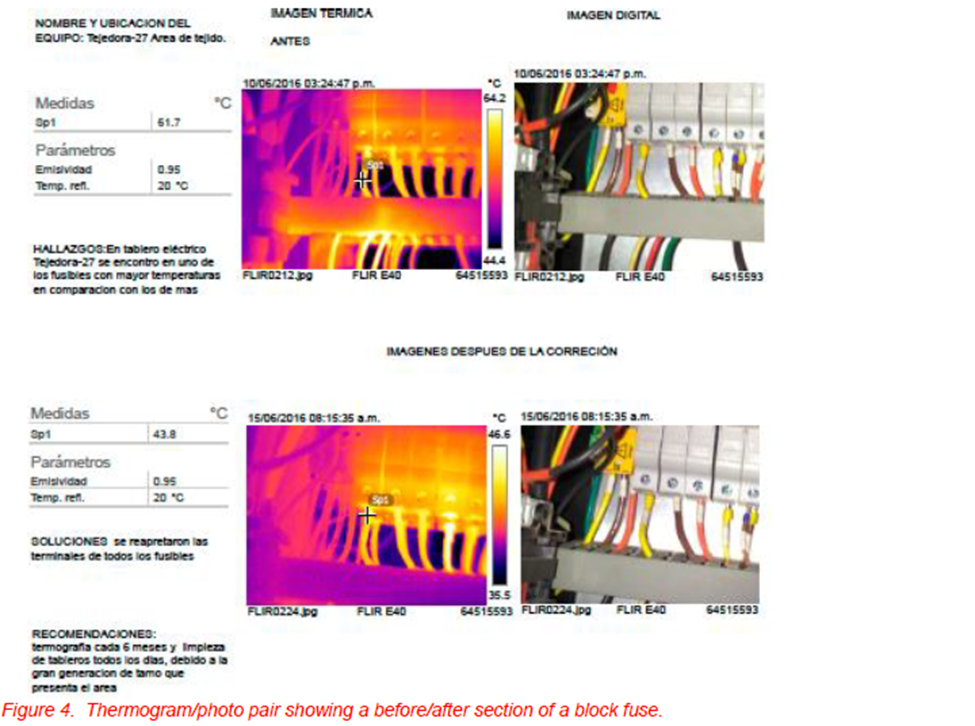 These images above, were taken at a fuse block, the temperature is well above the accepted temperature but this would not usually be a very critical point in a different enclosure, but when we consider that this section has a very high risk of fire because of all the cotton residue in the air and deposited on everything, it creates a new condition and then turns into a very critical point, that needs to be addressed constantly and thus, the inspection period is reduced.
Part 3
The last part involved the basic programming of the inspection routine, followed by a walk-through of each section with the leader in charge to provide some needed feedback. Once the program was created, it was being tested and based on the results it will be modified in the next few months. During the first implemented inspection, there were some issues that were found and very quickly dealt with, as these problems would have caused some serious money loss if they were not fixed before any problem occurred.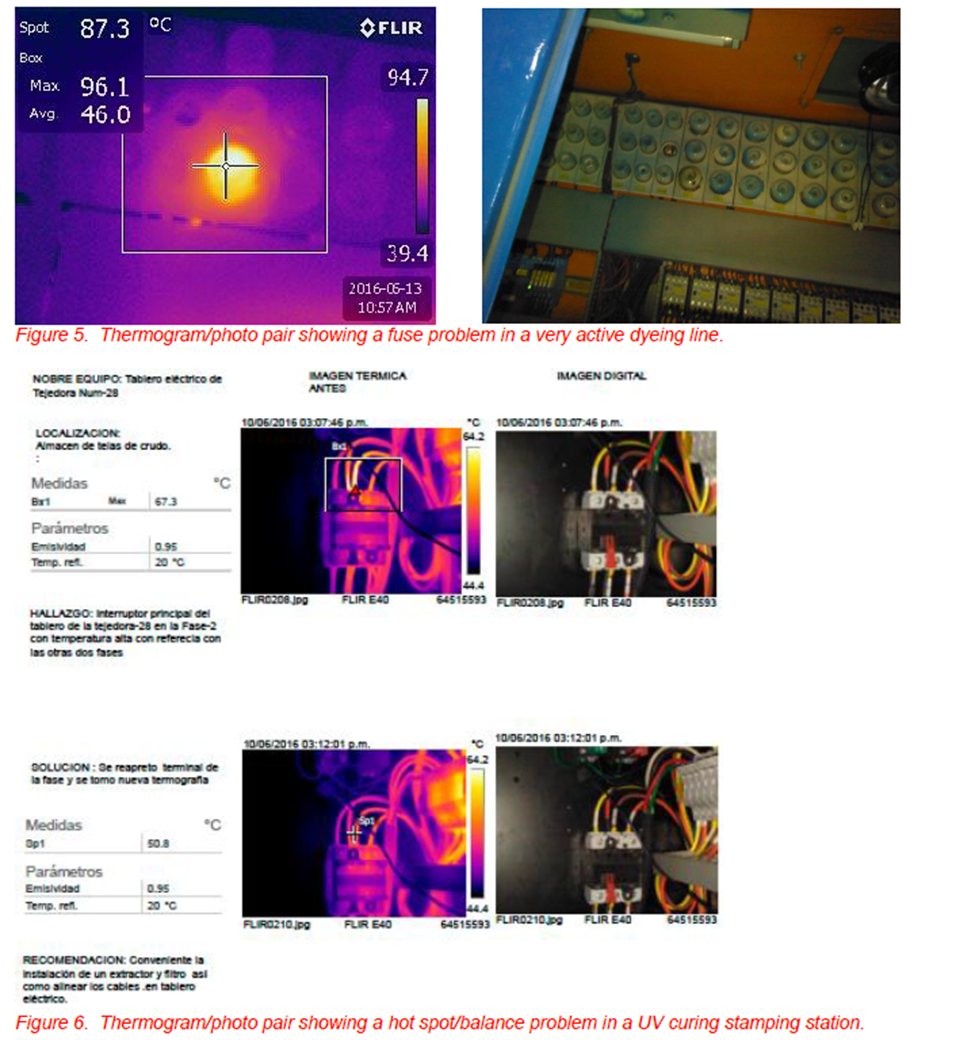 Some issues encountered, arose from certain stamping stations that have power-on/power-off cycles in random timing, depending on the production load, thus creating hot spots that are only visible after some hours of operation, and only in a time-lapse image of the electrical panel, as in figure 2.
SUMMARY
The process is very complex and has some extreme parameters that require more complex techniques for inspection. The modification of the procedures will involve taking time-lapse images for more specific IR analysis in the plant, as well as some traditional constant IR inspections.
ACKNOWLEDGEMENTS
The author wishes to thank the Infrared Training Center at FLIR Systems and Vertical Knits for providing the resources to make this work possible. I am also grateful for the support of Vertical Knits operations and maintenance personnel who provided additional data and information for this paper.
ABOUT THE AUTHOR
Humberto is a Level III thermographer and has been using the technology for 17 years.