Level I sUAS Recertification Exam
Tuition: $795
Duration: 1.5-Hours
Language: English
Format: On-Demand / Self-Paced Learning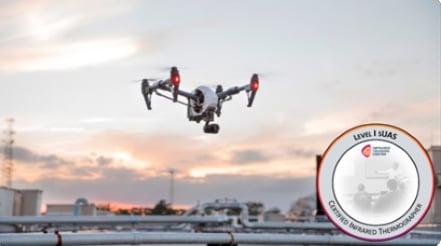 This exam is designed for the Level I sUAS Certified Thermographer who needs to re-certify to maintain their Level I sUAS status.

The recertification exam has 60 multiple-choice questions, each with 4 possible responses. A passing grade is 75% meaning you can get a maximum of 15 questions incorrect. You will have two tries to pass the exam with an optional 3rd try with administrator approval.

This is a CLOSED BOOK EXAM AND MUST BE PROCTORED by one of your associates. You will have 90 minutes to complete the exam, once the time is up you will not be able to finish or modify the exam in any way. After submitting the examination, your score will be shown.

A proctored exam is an exam that is administered by an individual who supervises the student while they are taking the exam. The proctor's function is to ensure the integrity and security of the exam.
Certification renewal:

For valid certifications: The new certification will be extended by 4 years from the date the exam was passed.

For recently expired certifications: We offer a 6-month window in the event that the original certification has expired. In this case, the new certification will be issued from the original expiration date. Beyond 6 months you will need to attend another recertification course and pass the exams. A new certification will be issued from the last date of the most recent course.